Michael R. Allen | Director and Architectural Historian
Contact: michael@preservationresearch.com
Architectural historian Michael Allen founded Preservation Research Office in 2009. Previously, Michael served as Research Associate and then Assistant Director at Landmarks Association of St. Louis. The Preservation Research Office synthesizes Allen's professional expertise and practice in public architectural history, started in 2003 when he began writing the widely-read blog Ecology of Absence. Allen's research has remained concerned with the impact of deindustrialization, population loss and postwar urban renewal projects on the preservation of historic urban landscapes. In recent years, Michael has lectured on architectural history and historic preservation at Washington University in St. Louis, New York University, St. Louis University and other institutions, while providing annually over 40 tours, workshops or talks for community groups and organizations across the St. Louis region. Allen is regular contributor to the NewsLetter of the Society of Architectural Historians, Missouri Valley Chapter, a regional journal of original research. Allen has contributed chapters to the volumes The Making of An All-America City: East St. Louis at 150 and Buildings of Missouri (projected publication 2014).
Michael has written for Next City, PreservationNation, Temporary Art Review, Omnitectural Forum, CTheory, St. Louis Post-Dispatch, St. Louis Beacon and St. Louis American and is a guest commentator for St. Louis Public Radio. His media appearances on historic preservation and architectural history have included the programs "Marketplace" on National Public Radio and "Off Limits" on the Discovery Channel as well as the documentaries Brick By Chance And Fortune, Route 66 (broadcast on ARTE in Europe) and The Pruitt-Igoe Myth (Allen's site tour is a special feature on the DVD). Michael is President of Modern STL and also serves on the board of the St. Louis Building Arts Foundation. He serves as a Regional Advisor to Landmarks Illinois.  In 2010, the Next American City named Michael Allen to its annual Next American Vanguard of young leaders working on shaping urban policy.
Michael has authored (as sole or joint author) 42 successful National Register nominations, including nominations of significant mid-century modern buildings in St. Louis. Allen's interests in modernism led to his becoming co-manager of the Pruitt Igoe Now ideas competition (2011-12). Michael holds a bachelor's degree from Union Institute and University and memberships in the Society of Architectural Historians and the Society for Industrial Archaeology.
---
Lynn M. Josse | Affiliated Architectural Historian
Contact: lynn@preservationresearch.com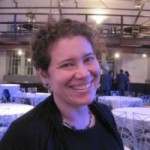 Lynn Josse has conducted historic resource surveys and written National Register nominations professionally since 1994. As author of more than 30 successful nominations, Lynn is thoroughly familiar with National Register survey and nomination procedures. Lynn is St. Louis' leading practitioner of neighborhood historic district surveys and nominations. She has led 15 major surveys in both St. Louis and Oregon and has also worked on a survey in North Dakota. Some of Lynn's recent projects include the Oak Hill Historic District, Liggett and Myers Historic District and the St. Cecelia Historic District in St. Louis. Currently, Lynn serves as Acting Director of the Chatillon-DeMenil House Foundation .
Lynn is the co-author of the most recent architectural guide to St. Louis, St. Louis Landmarks and Historic Districts (with Carolyn Hewes Toft, 2002) and writer of the award-winning documentary University City: The First Century (2006). In 2004, Lynn was a Public Policy Research Center Fellow at the University of Missouri-St. Louis. Prior to that, Lynn was Assistant Director of Landmarks Association of St. Louis, where she was employed from 1996 until 2003.  Lynn has served on the boards of DeSales Community Housing Corporation and the Chatillon-DeMenil House Foundation and Modern STL.
Additionally, Lynn has wide experience in public programming and has developed and utilized a variety of databases in Microsoft Access for both preservation and non-preservation clients. Lynn has a bachelor's degree from Northwestern University and a master's degree in historic preservation from the University of Oregon.
---
Phil Fargason | Project Associate
phil@preservationresearch.com
Phil Fargason is new hire at PRO with a diverse background in architecture and public policy. He studied architecture and Urban Design at Washington University and recently completed the Coro Fellowship in Public Affairs. Living in St. Louis for 7 years, Phil has been excited to see the ways that historic preservation is used as a powerful tool to stabilize neighborhoods. He is excited to be engaged with and learn from as many aspects of the preservation process as possible at PRO.