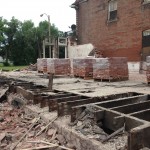 30 Days of Demolition
A collaborative program evaluating the ecological dimensions of demolition in St. Louis created with artist Carlie Trosclair for the Marfa Dialogues at the Pulitzer Arts Foundation, July-August 2014.
Pevely Dairy Design Charrette
In November 2011, PRO joined Landmarks Association of St. Louis and nextSTL to host a design charrette in which local designers developed solutions for the historic dairy plant then threatened with demolition.
Valentines for Vacants in Gravois Park
In 2015 PRO joined collaborators to promote asset-based awareness of vacant houses in St. Louis, Gravois Park neighborhood, as part of the national "valentines for vacants" advocacy campaign.