EDUCATIONAL PROJECTS

Seizing Historic Tax Credit Opportunities in Illinois
Landmarks Illinois contracted Preservation Research Office to assist with the development of a series of eight workshops on historic tax credits across the state of Illinois. The workshops present the findings of the report, Economic Development Opportunities from an Illinois Historic Tax Credit, which PRO prepared for Landmarks Illinois in 2013. Workshops ran from August through September 2014 in Aurora, Chicago, Columbia, Glen Ellyn, Kankakee, Herrin, Rock Island and Springfield.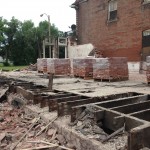 30 Days of Demolition
A collaborative program created with artist Carlie Trosclair for the Marfa Dialogues at the Pulitzer Arts Foundation, July-August 2014.
---
CULTURAL RESOURCES PROJECTS
High-Rise Public Housing Towers in St. Louis, Missouri
PRO prepared a context study on public housing tower architecture in St. Louis, from the 1949 United States Housing Act era through the Turnkey program era.
---
HISTORIC RENOVATIONS

Apartments at 2051-55 Maury Avenue
PRO prepared the historic tax credit application for this project, which converted a 24-unit apartment building in St. Louis' Southwest Garden neighborhood into an 18-unit building housing modern urban apartments.
---