PAST EVENTS: 2014
Lecture: National Register of Historic Places: Helping or Hindering Legacy City Preservation?
PRO Director Michael R. Allen will discuss what happens when preservation gets in the way of preservation. This talk is part of Landmarks Illinois' Snapshots series. More information here.
Date: May 11, 2015
Location:Chicago, Illinois
Downtown Lost and Found
Architectural walking tour offered through Dabble.
September 21, 2014
Beyond Saving Buildings: Historic Preservation in the Age of the "Selfie"
Part of St. Louis Design Week.
September 26, 2014
Talk: "Seeking the Landscape of Civic Identity: The Gateway Mall and Serra's 'Twain'"
Lectures at the St. Louis Art Museum accompanying an exhibit on Serra' Twain.
June 19-20, 2014
Tour: Shaw Place and Surrounds.
Walking tour to benefit the Shaw Neighborhood Improvement Association led by PRO's Michael R. Allen.
May 18, 2014
Lindell Boulevard Goes Modern (Again and Again)
PRO's Michael R. Allen joined Toby Weiss for a tour of Lindell Boulevard.
May 10, 2014
Table Talk with Michael Allen
Public conversation with Michael Allen about the latest issues relating to urban planning, architectural preservation, and public policy in St. Louis. With the city historically accelerating depletion through redevelopment, the focus of the conversation will be on recent happenings in the central corridor (CWE, Midtown, and Downtown) that could be restorative or further the denigration of urban fabric.
February 9, 2014
PAST EVENTS: 2013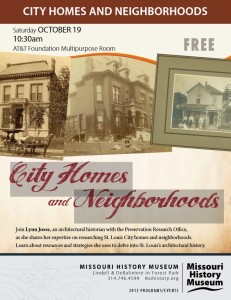 City Homes and Neighborhoods
Saturday, October 19 / 10:30 AM
Missouri History Museum
PRO Affiliated Architectural Historian Lynn Josse will tell you how to start researching your home or neighborhood, in a free program. Details here.
Field Notes: Geologic and Architectural Bike Tour
Saturday, October 19 / 1:00 – 3:00 PM
Registration 12:30 PM
Start at The Pulitzer Foundation for the Arts, 3716 Washington Boulevard
Join us on this unique community ride of Grand Center and downtown St. Louis, co-sponsored by Trailnet. Geologists Dr. John Encarnacion and Garrecht Metzger team up with PRO Director Michael Allen to explain the complex intersections between the geologic and architectural histories of St. Louis. Details here.
PRO TOUR: That Summer Fields Grew High: Agriculture and Architecture in St. Louis Place
Michael R. Allen leads a special walking tour of the St. Louis Place neighborhood in a PRO-sponsored event. $5 a person.
August 24, 2013
South City MCM Walking Tour
Michael R. Allen leads a tour of mid-century modern architecture on South Grand. Details here.
April 28, 2013
Perpetual Disruption? Losing DeSoto-Carr and Pruitt-Igoe, 1952-1977
Michael R. Allen delivers a lecture in the "Lost Neighborhoods" lecture series sponsored by Landmarks Association of St. Louis. Details here.
April 25, 2013
City Affair: Political Engagement
PRO Director Michael R. Allen joins Alderman Scott Ogilvie and activist Martin Casas for a panel discussion sponsored by the monthly event series City Affair.
January 31, 2013
"Between Two Rivers" Screening
PRO joins Washington University in St. Louis American Culture Studies program to screen a new documentary on Cairo, Illinois.
January 30, 2013
Brick By Chance and Fortune
The Missouri History Museum presented a post-screening Q & A with director Bill Streeter, former Hydraulic Press Brick Company president Bill Allen and PRO Director Michael Allen.
January 17, 2013
Panel Discussion on Pruitt-Igoe
Laumeier Scuplture Park sponsors a panel that features artist Juan William Chavez in conversation with Michael R. Allen and Sylvester Brown, Jr.
January 12, 2013
PAST EVENTS: 2012
The Promises of Pruitt-Igoe
PRO Director Michael R. Allen gave a lecture at the Sam Fox School of Design and Visual Arts at Washington University in St. Louis.
November 16, 2012
Livable St. Louis Conference 2012: Bold Community Visions
Art is Livability Panel: The arts play a critical role in the creating vibrant places, from the individual to the community scale. This session looks at three projects along this continuum and their current and possible future contributions to a livable St. Louis through creative placemaking and creative re-use of land and materials. Moderator: Roseann Weiss; Speakers: Michael Allen, Architectural Historian and Director, Preservation Research Office; Gina Martinez, The Pink House; and Jenny Murphy, Executive Director, Perennial. Details here. Registration required.
October 26, 2012
Pruitt Igoe Now: Honoring the Past, Imagining the Future
Michael R. Allen spoke to the staff of the Furman Center for Real Estate and Urban Policy at New York University.
October 12, 2012
Downtown Modern: St. Louis in the Shadow of Saarinen's Arch
Michael R. Allen joined Toby Weiss to lead this tour sponsored by Modern STL.
October 6, 2012
A Preservation Ellipsis: The AAA Building and Our Recent Architectural History
As part of the FORM Contemporary Design Show, Michael R. Allen will give a talk that traces the idea of preserving the AAA Building around to the fire that destroyed the AAA's previous building on that site in 1975.
September 29, 2012
Collateral Damage, KDHX FM
Michael Allen joined host D.J. Wilson to discuss the Pruitt Igoe Now competition, recent developments with the Pevely Dairy Plant demolition, the renovation of the "flying saucer" at Council Plaza and the recent city Treasurer's race. Podcast here.
August 13, 2012
Pruitt-Igoe Sidewalk Tour and Film Screening
Details here.
July 26, 2012
Pruitt Igoe Now Exhibition opening
Details here.
July 25, 2012
Botanical Grove Happy Hour Talk: The Shaw's Garden Historic District
Michael R. Allen will talk about the Missouri Botanical Garden's efforts to create a streetcar suburb around the Garden. Details here.
July 18, 2012
The Past, Present and Future of the Clemens House
What is going on with James Clemens, Jr. House? Attend a lecture by Michael Allen, Director of the Preservation Research Office and hosted by Landmarks Association on the status of the centerpiece of Paul McKee's NorthSide development. here.
May 10, 2012
Brick By Chance And Fortune Screening and Panel Discussion
This documentary about the past, present, and future of brick in St. Louis chronicles the city's rich history as both a producer and user of a building material that's as lovely as it is sturdy. After the film, stay for a discussion with filmmaker Bill Streeter; Michael Allen, director at Preservation Research Office; and author and historian NiNi Harris. The DVD will be available for purchase in the Missouri History Museum Shop. Details here.
April 24, 2012
Battle for Brooklyn Screening
Details here.
April 23, 2012
FREDTalk
As part of the night of short presentations of ideas and projects during Rust Belt to Artist Belt, Michael R. Allen will present a talk on the Pruitt Igoe Now ideas competition. Details here. Open to registrants of the conference only.
April 13, 2012
Walking Tour of the Central West End
Michael R. Allen leads a 90-minute architectural walking tour of the Central West End. Participants MUST register for the Rust Belt to Artist Belt conference. Details here.
April 12, 2012
The Pruitt-Igoe Myth Screening and Panel Discussion
Details here.
February 3, 2012
PAST EVENTS: 2011
Tour of Pruitt-Igoe for ASLA – St. Louis
Photos and a recap available here.
December 2, 2011
Off Limits: St. Louis
The Travel Channel's Off Limits program visits St. Louis for a look at hidden and forbidden places. Michael R. Allen is the guide to the Cotton Belt Freight Depot.
November 3, 2011
Washington University Parents' Weekend
Annual bus tour of the city led by Michael R. Allen.
October 22, 2011
Mobile Workshop: South Grand
Michael R. Allen was a tour guide for a mobile workshop at the American Planning Association – Missouri conference.
October 21, 2011
Gateway To Modernism: Modern Architecture Tour of St. Louis City & County
Sponsored by Modern STL. The tour, narrated by ModernSTL board members Toby Weiss and Michael R. Allen, will highlight outstanding examples of mid-century modern architecture in the Metro St. Louis region, driving through and stopping at spiritual, commercial and residential sites. Details here.
October 8, 2011
Walking Tour of the North Riverfront
PRO is partnering with Citizens for Modern Transit to offer a walking tour of one of the city's most interesting industrial historic districts. The tour is for participants in the Ten Toe Express, and there is a fee. To register or learn more go here.
September 22, 2011
Pruitt-Igoe Walking Tour
For the American culture Studies program at Washington University in St. Louis. Join architectural historian and co-organizer of the "Pruitt-Igoe Now" design competition Michael Allen as we re-visit the area of the infamous housing project and examine how the local urban scene has (or has not) changed in the years since its downfall.
September 16, 2011
The State of St. Louis' Mid-Century Modern Legacy
On Thursday, September 7, AIA St. Louis kicked off this year's Continuing Education series with a session on "Our Mid-Century Modern Legacy." Michael Allen opened the event with a talk that examined recent threats as well as case studies in success like the owner-driven National Register of Historic Places nominations for Ladue Estates and Stonebrook. Michael was followed by Chicago preservation architect Gunny Harboe, principal of Harboe Architects. Harboe discussed Chicago's biggest current threat, Bertrand Goldberg's Prentice Hospital, as well as several rehabilitation projects for Mies Van Der Rohe buildings in Chicago.
September 7, 2011
Pruitt-Igoe Panel Discussion
Mission St. Louis screened The Pruitt-Igoe Myth and followed the screening with a panel discussion on the housing project that included Ron Haynes, Sabrine Rhodes, Paul Fehler and PRO Director Michael R. Allen.
August 7, 2011
Public Housing in St. Louis: Vanishing Mid-Century Modern Architecture
Modern STL and the Architecture Section of the St. Louis Artists' Guild present a lecture by Michael Allen and Lynn Josse.
June 23, 2011
From Louis Sullivan to Philip Johnson: A Look At St. Louis Commercial Architecture
Lynn Josse and Michael R. Allen led a bus tour for the St. Louis Art Museum's Friends of American Art and Design group.
May 21, 2011
A Tour of the Pruitt-Igoe Site
(Preceded by picnic at vacant lot on corner of 14th & Cass, 6:00 p.m.) In its third year, the Chautauqua Art Lab (CQAL) is a week-long grassroots citywide arts festival, free university and art parade. On Monday, May 9th, they are hosting tours of the north side, and architectural history expert Michael Allen will lead a tour of the Pruitt-Igoe site at 7:00pm. The event is free. Details here.
May 9, 2011
The Pleasure of the Landscape: Placemaking and Identity in the St. Louis Place Neighborhood
Fontbonne University presents this lecture at 2:00 p.m. on Thursday, April 28 at the university's Library. Michael R. Allen offers a critical examination of efforts to reframe the identity of the St. Louis Place neighborhood on the city's near north side.
April 28, 2011
East St. Louis at 150 (St. Louis on the Air, St. Louis Public Radio)
Debra Moore, Billie Turner, Andrew Theising and PRO's Michael Allen joined "St Louis on the Air" host Don Marsh to discuss the new book The Making of an All-America City: East St. Louis at 1450.
April 20, 2011
Built to Last: An Architectural History of St. Louis
Michael R. Allen led a bus tour of the city for the Missouri History Museum.
April 16, 2011
UMSL South Campus Tour
Lynn Josse led a walking tour of UMSL's South Campus, formerly the Marillac College and today the home of the university's Honors College.
April 16, 2011
An Evening With Alderman Antonio French
Michael R. Allen was a panelist at this event, sponsored by City Affair.
April 7, 2011
North Riverfront Tour
Michael Allen led a private tour of the industrial north riverfront for the Business History Conference.
April 1, 2011
Three Mid-Century Modern Houses in St. Louis
Lecture by Michael R. Allen at Cafe DeMenil, 3352 DeMenil Place. Starts at 11:00 a.m.
March 30, 2011
Lost St. Louis? (Collateral Damage, KDHX FM)
Michael Allen joined Collateral Damage and host DJ Wilson to discuss the glut of vacant property in the city and what is being done about it.
March 28, 2011
Open/Closed: Exploring Vacant Land in St. Louis
PRO Director Michael R. Allen will be a panelist at this conference.
March 18-19, 2011
St. Louis Mythory Tour
A collaborative 'zine and installation project by Emily Hemeyer and Michael R. Allen, presented for the Scouthern Graphics Council annual conference.
March 18, 2011
Recent St. Louis Historic Districts
Lynn Josse presented a talk about the Oak Hill, Liggett & Myers and Reber Place historic districts as part of Cafe DeMenil's lunch lecture series.
March 2, 2011
PAST EVENTS: 2010
Making Parks in the Central City: The Evolution of the Gateway Mall
Paper by Michael R. Allen included in the panel "Public Space and the Problem of Solidarity" at the Collective Memory in St. Louis Symposium, Fontbonne University
October 22, 2010
Architectural Tour of the Industrial North Riverfront
October 9, 2010 (part of Open Streets)
Lecture: Modernism and the Rise of the Early St. Louis Preservation Movement
Michael R. Allen gave the lecture as part of Landmarks Association of St. Louis's Mid-Century Modern Masters series.
September 12, 2010
Southwest Garden Architectural Tour
Lynn Josse gave a bicycle tour of the neighborhood.
June 5, 2010