For release: February 13, 2015
Joining a national campaign that started in Buffalo four years ago, preservationists in St. Louis are offering valentines for vacant, city-owned houses in south St. Louis' Gravois Park neighborhood. Called "heart bombs" or "valentines for vacants," the love notes for buildings draw attention to their potential for reuse and their irreplaceable architecture. Gravois Park's buildings are part of the Gravois-Jefferson Streetcar Suburb Historic District, a national historic district.
The Gravois Park campaign highlights over two dozen vacant houses owned by the city's Land Reutilization Authority (LRA), the owner of last resort. The LRA lacks resources to market these houses to potential homeowners and developers, so a group of concerned preservationists decided to lend some help. Each house will get a bright heart emblazoned with the candy-heart message "CALL ME" and the LRA phone number.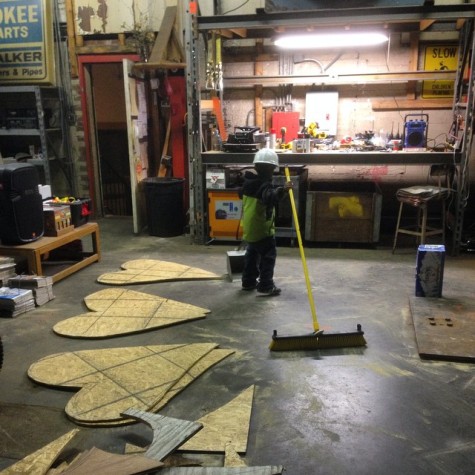 The Gravois Park campaign comes from the work of Michael Allen and Robin Harvey at the Preservation Research Office, artist Carlie Trosclair and Jason Deem of South Side Spaces. Both Preservation Research Office and South Side Spaces are based in the neighborhood, and specialize in work that transforms vacant buildings into community assets.
Allen says that it is important for St. Louis to join its sister cities across the nation. "Too often, preservation operates in a vacuum," he says. "Heart bombs connect advocacy and art as well as architectural history and economics."
"We can't afford to miss the connection between Gravois Park and the rest of south city, between south city and the region, and between St. Louis and other cities facing the same problems and possibilities," adds Trosclair.
Problems and possibilities among the 31 vacant residential buildings in Gravois Park owned by the LRA. The beautiful red brick two-family house at 3521 Louisiana Avenue demonstrates how buildings end up in the spiral of vacancy. Purchased by investors during the real estate bubble, the house was sold in three different transactions in 2007 only to end up tax-delinquent and vacant by 2011. The house at 3640 California Avenue was owned by investors from the St. Louis suburbs who let the building decline, stopped paying their taxes and let the building revert to the city in 2011. Both buildings are sound and ready for rehabilitation – and are eligible for historic tax credits to defer the costs.
Last year, the national "valentines for vacants" campaign reached Buffalo, Cleveland, New Orleans, Pittsburgh, Philadelphia, St. Paul, Minnesota, Wheeling, West Virginia, and Texas. More information on the campaign can be found online here.